PENTAX PUMP
After over 25 years of business activity, the guidelines that have governed and directed the industrial development of Pentax Industries SpA can finally be traced. Actions and processes have intersected each other with the evident main aim of creating value and benefits for the various parts of the production and distribution process.
A rational allocation of available resources, together with a refined programme of decentralization of production, have enabled the company to quickly adapt every time to fast-changing market conditions. Close focus on markets, undertaking to respond to the specific requirements of different areas, with special attention for technological progress. All this in a careful "customer satisfaction" policy perspective.
Description
Industry leader "A quality product accessible to everyone" Giorgio Pedrollo, General Manager For many years now, PENTAX has enjoyed a large share of the world motor-driven pump market.
The sales department is constantly working to better serve existing customers and open new markets, thanks to the broad range of products at disposal that allow to cover most of the pump field applications.
Close focus is placed on market surveys so as to immediately transfer any new requirements to the R&D department: the best way to develop and adequately foresee future scenarios.
The range of products is extremely vast and so the company is today able to cater to many different requirements, and above all manage, every time, to supply a top-quality product at an affordable price.
Organisation The company headquarters are located in the industrial area of Veronella, just a few kilometres from Verona. New production facilities have recently been purchased in italy.
Over the years, the company has set up an organisation able to adequately support business activities, with an extensive network connecting it to companies already operating on the market and strengthening its ability to face up to the hidden threats posed by the global economy. PENTAX's products are available in over 100 countries thanks, among other things, to its capacity to overcome the import barriers erected by a number of governments and which have in many cases proved negative for the entire population. The company is able to exhaustively dialogue with any market, placing its expertise at the disposal of anyone who requires it.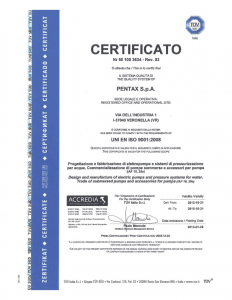 Only logged in customers who have purchased this product may leave a review.